Weekly Bulletin - Friday 25th March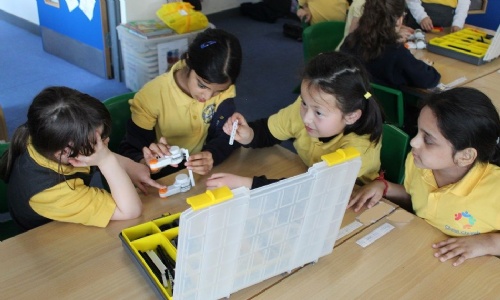 The Juniors enjoyed a visit from PrepareRobo, building robots from Lego and programming them to move.
This week has been another packed and exciting week! In the Juniors there were Preparerobo workshops, in which the children designed and made programmable moving vehicles. Some said that it was the best day ever! Today, the sun shone on our run for the Ukraine. The Infants ran round and round the astroturf (they reported running for between 10 and 100 laps, although I suspect that a fair bit of exaggeration was involved). The Juniors ran up and down The Cut, with coloured flags. I was so touched by the generosity of families and the community - in total we raised an amazing £895!
Well done to our Y3/4 netball team who had great fun in the sun yesterday in the netball festival at Wimbledon RFC. They took part in 4 matches and won all of them! We are also thrilled that Mr Newman will be running a netball club in the summer term and we look forward to more successes.
TOMORROW Saturday 26th March from 2-4 p.m. (last hunt entry at 3.30 p.m.) Easter Egg Trail
Join us at the Infant site to hunt for clues around the Groves and get an egg prize. We will also have Easter crafts, nature activities, refreshments and cake available to enjoy in the sunshine.
Thursday 31st March - Dress Up Dress Down Day
Children can come to school either dressed up (e.g as their favourite character) or dressed down in their own clothes. Please bring a £1 donation for the PTA fund.
Thursday 31st March - Open Afternoons
Parents are invited to visit their child's class in the afternoon on Thursday 31st March as follows:
Infants (except Fox Class) 2:00 p.m. - 3:00 p.m.
Juniors 2:15 p.m. - 3:15 p.m.
Fox Class will have their open afternoon on Friday 1st April, straight after the church service.
Easter Service - Friday 1st April
Parents are warmly invited to our Easter service at Christ Church church. It will begin at 9:45 a.m. and should last about an hour. Children from each year group will be performing parts of the Easter story.
End of Term - Friday 1st April
Please remember, as is usual, school will close early on the last day of term, at the following times:
Infants @ 2:15 p.m.
Nursery @ 2.20 p.m.
Juniors @ 2:30 p.m.
Connect will start at 2:15 p.m. and finish @ 5:15 p.m.
Soft Toys
The needs of some children mean that soft toys can be helpful in school. However, they can also be a distraction to other children. Therefore, please don't send your child in with a soft toy unless you have been asked to by Mrs Roe, our Special Educational Needs Coordinator, or your child's teacher.
Thank You to our Gardening Parent Volunteers
We would like to thank Sasha and our super parent helpers who came in last Sunday to tidy up and plant some new climbers, ferns and primroses in our wilderness garden and pond area. It looks so inviting and full of the early signs of spring for us all to enjoy! THANK YOU all.
Kingstonian Cricket Club - Girls Only Free Taster Sessions
Following the success of their 2021 campaign to get more girls playing cricket, they are again running free girls' cricket taster sessions on Wednesday 27th April and Wednesday 4th May. For more information, please see the attached flyer or you can register your interest here.
Christ's Hospital School - Open Morning Saturday 30th April
Christ's Hospital School, near Horsham in West Sussex, is the UK's leading charitable school and the largest bursary charity. The school was established in 1552 and provides free or substantially reduced cost places to 650 of its 900 boarding pupils. They also welcome day pupils who are within a commutable distance from the School. If any parents would like to find out more about them, they are holding an Open Morning on Saturday 30th April for Year 7, Year 9 and Sixth Form entry in September 2023. To make a booking online, visit their website: www.christs-hospital.org.uk
Clocks Change
Do remember the clocks change on Sunday.
Have a lovely weekend.
Tabitha White
Headteacher
Key Dates - Spring 2022
Saturday 26th March - PTA Easter Egg Hunt and Nature Afternoon - 2:00 p.m. - 4:00 p.m.
Sunday 27th March - Junior Choir singing at St John's - 10:00 a.m. - 11:30 a.m. (Please note British Summer time begins on this day and clocks go forward)
Thursday 31st March - Parents' Open Afternoon (except Fox class)
Friday 1st April - Easter Church Service - 9:45 a.m.
Friday 1st April- Fox class Open Morning following church service
Friday 1st April
Please remember, as is usual, school will close early on the last day of term, at the following times:

Infants @ 2:15pm
Nursery @ 2.20 pm
Juniors @ 2:30 pm
Connect @ 5:15pm
Key Dates - Summer 2022
Thursday 21st April - Reception Visit to Wisley Gardens
Thursday 21st April - Y6 Trip & SATS Talk at 6 p.m.
Wednesday 18th May - Whole School Class Photographs
Wednesday 25th May - Platinum Jubilee Tea Party: Infants
Thursday 26th May - Platinum Jubilee Tea Party: Juniors
Friday 27th May - INSET day (School closed)
Monday 6th June - School closed (in lieu of Bank Holiday for Queen's Platinum Jubilee)
Friday 10th June - Parent Rep Meeting - 2:00 p.m.
Friday 10th June - Y4 sleepover (until 9am Saturday morning)
Tuesday 14th June - Y6 Performance - 4:00 p.m.
Wednesday 15th June - Y6 Performance - 7:00 p.m.
Friday 17th June - Enterprise Day
Saturday 18th June - Summer Fair @ Infant site - 2:00 p.m. - 6:00 p.m.
Monday 20th June - Infant/Junior Music Festival
Thursday 23rd June - Y2 & Y4 Country Dancing Festival - 9:30 a.m. - 12:00 p.m.
Friday 24th June - INSET Day (School closed)
Thursday 7th July - Infant Sports Day
Monday 11th - Friday 15th July - Y6 Trip to Isle of Wight
Monday 11th July - Reception Parents meet Y1 Teachers - 3:45 p.m.
Tuesday 12th July - Y1 Parents meet Y2 Teachers - 3:45 p.m.
Wednesday 13th July - Y2 Parents meet Y3 Teachers - 3:45 p.m.
Thursday 14th July - Y3 Parents meet Y4 Teachers - 3:45 p.m.
Monday 18th July - Juniors Sports Day
Monday 18th July - Y4 Parents meet Y5 Teachers - 3:45 p.m.
Tuesday 19th July - Y5 Parents meet Y6 Teachers - 3:45 p.m.
Wednesday 20th July - Children meet new class
Wednesday 20th July - Y6 Leavers' Celebration for Y6 parents and children - 7:00 p.m.
Thursday 21st July - Parents' Open Afternoon
Friday 22nd July - End of Year Service - 9:45 a.m.
Friday 22nd July - Y6 Leavers' Event - 2:00 p.m.
Friday 22nd July - Early Finish
Please remember, as is usual, school will close early on the last day of term, at the following times:

Infants @ 2:15pm
Nursery @ 2.20 pm
Junirs @ 2:30 pm
Cnnect @ 5:15pm