Weekly Bulletin - Friday 1st April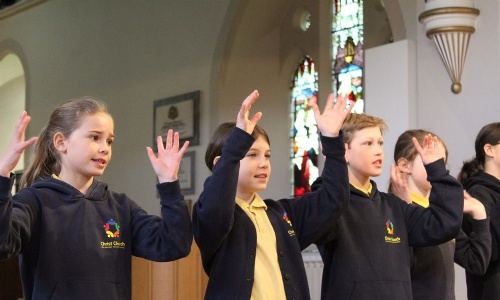 It was lovely to celebrate Easter with our Easter service - our first in person service since Christmas 2019!
It was so special to finish the term with a service for the whole school and community in the church. We have really missed the opportunity to be able to all meet together to celebrate such an important time in the church year. I know that the quality of the singing reduced a number of us to tears and it was lovely to see the children, from Reception upwards, bring the story to life so well. I was impressed by the clarity of the speaking and the skilled use of the microphone. Do see the photos of the service in the March newsletter.
I wish you all a very safe and illness free holiday, with time to pause and relax with your family and a renewed awareness of the love of God despite these difficult times.
Newsletter
Thank you to Mrs Graves for compiling another eye-catching newsletter containing photos taken by both adults and children. It is amazing to look back and reflect on how much has happened. Here is the link to the March newsletter.
Year 6 Football
Year 6 played their last game of the term on Tuesday against Corpus Christi. It was a well fought game, resulting in a 4-4 draw.
Phonics Talk - For Reception and Year 1 Parents - 9 a.m. Friday 29th April Infant Hall
We are aware that parents have a number of questions about our new reading scheme, the way it works and how best to support children at home. We are therefore offering a special talk for Reception and Year 1 parents on how we teach reading and how parents can support their children with reading and phonics. It will be at 9 a.m. in the infant hall on Friday 29th April. It will not be possible to record this meeting, due to certain permissions, but we will circulate the notes to all parents.
Reading for Refugees During the Easter Break
Following the run last week, one of our parents has put together a nationwide readathon supported by the School Library Association to encourage children to keep reading during the Easter break and do something positive in the face of appalling tragedy, with all funds raised going to the UN Refugee Agency. Everything you need to take part is on this website including a JustGiving page for collecting donations and sponsorship, bookmark and sunflower picture to colour in for recording donations. There is a special fun video competition featuring children's authors coming soon that will be free for all to enter regardless of participation. It would be great if our school community could get involved over the holiday. If you have any questions, you can contact them at read4refugees@gmail.com.
Family Easter holiday events in Kingston town centre from Kingston First
Thumbs Up It's Thursday - On Thursday 7 and 14 April, their 'Thumbs Up It's Thursday' events will return, with two days full of exciting Easter family fun in the town centre. The best part; most activities won't cost you a penny! From storytelling, to Easter egg decorating and creative workshops, there's plenty to keep little ones happy.
FREE Easter Trail - Their FREE Easter Trail will be running everyday throughout the school holidays (2-18 April). There are colourful eggs to spot on posters in the windows of eight Kingston businesses, and sweet treats and goodies to pick up inside the store.
Here's a link to their website to find out more.
Have a lovely Easter break and we look forward to welcoming everyone back on Tuesday 19th April.
Tabitha White
Headteacher
Key Dates - Summer 2022
Thursday 21st April - Reception Visit to Wisley Gardens
Thursday 21st April - Y6 Trip & SATS Talk at 6 p.m. in the Junior Hall
Friday 22nd April - Infant Skipping Workshop
Wednesday 18th May - Whole School Class Photographs
Wednesday 25th May - Platinum Jubilee Tea Party: Infants
Thursday 26th May - Platinum Jubilee Tea Party: Juniors
Friday 27th May - INSET day (School closed)
Monday 6th June - School closed (in lieu of Bank Holiday for Queen's Platinum Jubilee)
Friday 10th June - Parent Rep Meeting - 2:00 p.m.
Friday 10th June - Y4 sleepover (until 9am Saturday morning)
Tuesday 14th June - Y6 Performance - 4:00 p.m.
Wednesday 15th June - Y6 Performance - 7:00 p.m.
Friday 17th June - Enterprise Day
Saturday 18th June - Summer Fair @ Infant site - 2:00 p.m. - 6:00 p.m.
Monday 20th June - Infant/Junior Music Festival
Thursday 23rd June - Y2 & Y4 Country Dancing Festival - 9:30 a.m. - 12:00 p.m.
Friday 24th June - INSET Day (School closed)
Thursday 7th July - Infant Sports Day
Monday 11th - Friday 15th July - Y6 Trip to Isle of Wight
Monday 11th July - Reception Parents meet Y1 Teachers - 3:45 p.m.
Tuesday 12th July - Y1 Parents meet Y2 Teachers - 3:45 p.m.
Wednesday 13th July - Y2 Parents meet Y3 Teachers - 3:45 p.m.
Thursday 14th July - Y3 Parents meet Y4 Teachers - 3:45 p.m.
Monday 18th July - Juniors Sports Day
Monday 18th July - Y4 Parents meet Y5 Teachers - 3:45 p.m.
Tuesday 19th July - Y5 Parents meet Y6 Teachers - 3:45 p.m.
Wednesday 20th July - Children meet new class
Wednesday 20th July - Y6 Leavers' Celebration for Y6 parents and children - 7:00 p.m.
Thursday 21st July - Parents' Open Afternoon
Friday 22nd July - End of Year Service - 9:45 a.m.
Friday 22nd July - Y6 Leavers' Event - 2:00 p.m.
Friday 22nd July - Early Finish
Please remember, as is usual, school will close early on the last day of term, at the following times:

Infants @ 2:15 p.m.
Nursery @ 2.20 p.m.
Juniors @ 2:30 p.m.
Connect will start at 2:15 p.m. and run until 5:15 p.m.