Weekly Bulletin - Friday 13th May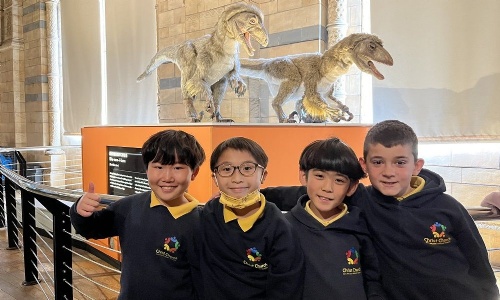 This week Year 6 celebrated finishing SATs with a trip to Beverley Park and Year 4 had a great day out at the Natural History Museum.
This has been a strange week, as it has been rather dominated by Year 6 Statutory Assessments. I was so proud of the way the Year 6 children worked and the resilience they showed. Although they were naturally anxious to do their best, we did not see the tears that other schools, sadly, reported. This was perhaps partly down to the success of the very full, delicious breakfast and the daily supply of squash and biscuits. (It is the one week where we are not so concerned about healthy eating!). I would like to thank the rest of the Juniors who were so supportive, working extremely quietly and reducing movement about the building to a minimum. The tests have now been collected and the Year 6 children have had a fun time at Beverley Park.
This week, we also had a visit to audit our school meals to ensure that our catering contract is being fulfilled in its entirety. Whilst there are always pointers to consider, it was very reassuring to hear that the portion sizes were appropriate (often a topic of discussion with children!) and the meals well cooked.
Lunch Next Wednesday & Thursday
To accommodate class photos next week, the lunch menu on Wednesday 18th and Thursday 19th May will be swapped over. Wednesday will be Cottage Pie/Tomato Pasta Bake and Thursday will be Roast Pork/Sweet Potato Pinwheel.
Pigs Over Half Term
Calling any volunteers to look after our pigs over the half term holiday. Please contact the office to request access to the rota if you are interested.
Saturday Football Club at Corpus Christi
Should you be interested, we have attached a flyer with further details about a Saturday morning football club for 4-11 year olds at Corpus Christi School. It is a great opportunity for children to get into football or to play, enjoy and develop in a very relaxed and fun environment.
I wish you all a lovely weekend.
Tabitha White
Headteacher
Key Dates - Summer 2022
Wednesday 18th May - Whole School Class Photographs
Tuesday 24th May - Y2 Kingston Schools' Singing Festival Workshop
Wednesday 25th May - Platinum Jubilee Street Party: Infants
Thursday 26th May - Platinum Jubilee Street Party: Juniors
Friday 27th May - INSET day (School closed)
Monday 6th June - School closed (in lieu of Bank Holiday for Queen's Platinum Jubilee)
Friday 10th June - Parent Rep Meeting - 2:00 p.m.
Friday 10th June - Y4 sleepover (until 9am Saturday morning)
Tuesday 14th June - Y6 Performance - 4:00 p.m.
Wednesday 15th June - Y6 Performance - 7:00 p.m.
Friday 17th June - Enterprise Day
Saturday 18th June - Summer Fair @ Infant site - 2:00 p.m. - 6:00 p.m.
Monday 20th June - Kingston Schools' Singing Festival (Y2 and Y5 & 6 choir)
Thursday 23rd June - Y2 & Y4 Country Dancing Festival - 9:30 a.m. - 12:00 p.m.
Friday 24th June - INSET Day (School closed)
Thursday 7th July - Infant Sports Day
Monday 11th - Friday 15th July - Y6 Trip to Isle of Wight
Monday 11th July - Reception Parents meet Y1 Teachers - 3:45 p.m.
Tuesday 12th July - Y1 Parents meet Y2 Teachers - 3:45 p.m.
Wednesday 13th July - Y2 Parents meet Y3 Teachers - 3:45 p.m.
Thursday 14th July - Y3 Parents meet Y4 Teachers - 3:45 p.m.
Monday 18th July - Juniors Sports Day
Monday 18th July - Y4 Parents meet Y5 Teachers - 3:45 p.m.
Tuesday 19th July - Y5 Parents meet Y6 Teachers - 3:45 p.m.
Wednesday 20th July - Children meet new class
Wednesday 20th July - Y6 Leavers' Celebration for Y6 parents and children - 7:00 p.m.
Thursday 21st July - Parents' Open Afternoon
Friday 22nd July - End of Year Service - 9:45 a.m.
Friday 22nd July - Y6 Leavers' Event - 2:00 p.m.
Friday 22nd July - Early Finish
Please remember, as is usual, school will close early on the last day of term, at the following times:

Infants @ 2:15 p.m.
Nursery @ 2.20 p.m.
Juniors @ 2:30 p.m.
Connect will start at 2:15 p.m. and run until 5:15 p.m.