Weekly Bulletin - Thursday 26th May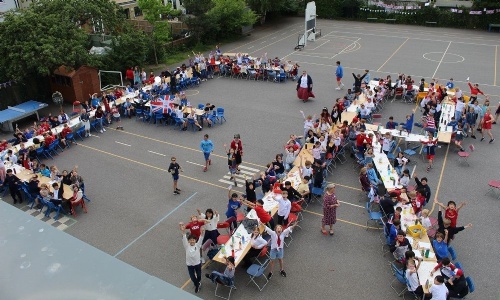 To celebrate the Queen's Platinum Jubilee we were treated to some beautiful singing and dancing at our tea parties at each of our sites.
We have only had four days this week, but we have still managed to pack in the following highlights. Our Rights Respecting Schools Steering Group visited the Houses of Parliament on Monday and some of our Junior pupils took part in the Coombe Cluster Creative Writing Day at Corpus Christi on Tuesday. Year 2 enjoyed a singing workshop, whilst Year 3 have been to Shepherds Bush to visit the oldest gurdwara in Europe.
To celebrate the Queen's Platinum Jubilee we also held a tea party at each of our sites. The children rose to the occasion in their red, white and blue clothing and at the Infants we were also in the presence of some very well dressed Kings and Queens! We were treated to some beautiful singing as well as a sneak preview to some country dancing in preparation for the Country Dance Festival next month. All our children should now know the words to the National Anthem, which may prove useful if they end up representing our country as an adult!
In sport this week our Year 5&6 netball team achieved a significant win at home against Robin Hood Primary School on Tuesday.
You can see photos of some of these activities and more in this month's newsletter.
Country Dancing Festival - Request for Gazebos
The Country Dancing Festival is fast approaching, and the Year 2s and 4s have been busy learning their dances. We will need some gazebos on the day, for the children to sit under in between their dances. Please could you email Mrs Brooks (nbrook4@ccnm.uk) if you are able to lend us one for the morning of 23rd June.
Request for Help with Reception Bikes
We are looking for someone who knows about bikes and can help with raising and lowering seats and giving them a check over. If you are able to help please contact the office.
PTA Fair SeOUL Board Poster Competition Winner!
Thank you so much for all the lovely posters designed by Y6. We were really impressed with the general standard and grateful to the children for taking the time to do them in their SATs week! Click here for the winning design, which is going to go on the SeOUL boards - it looks fantastic! The winner is Jinwon's design with Annabel M's ice cream and burger. Well done to Jinwon and Annabel M! Many thanks, The PTA
Next PTA Meeting - Wed 8th June, via Zoom, at 8 p.m.
Please join us for our next PTA meeting on Wed 8th June at 8 p.m. This is a really important meeting when we will be finalising details for the Fair. We can field any specific queries on stalls etc from Reps (or others) at the start of the meeting if you want to dial in briefly at the beginning. Please do join us!
Next Parent Reps Meeting: Friday 10th June at 2 p.m. in Infant Staffroom in person
On Friday 10th June, we will be holding our final Parent Representatives meeting of the year. It will be lovely to be able to meet in person in the Infant Staffroom. If you have any questions or concerns which you wish to raise or suggestions to make, please let your reps by 7th June so that they can pass them onto us by the end of 8th June.
Thank You
A big thank you to the parents who have come into Year 4 and demonstrated their musical instruments this half term. We have had a flute, piccolo, clarinet, violin, trumpet and French horn. Year 4 have learnt a lot and were amazed to find out that a French horn, if unravelled, would stretch right across the classroom - a hosepipe was used as a demonstration and the parent even proceeded to play a section of Mozart's horn concerto on the hosepipe!! Also a big thank you to Mrs Bae who performed a beautiful Mozart Sonata on the piano to the infants. All of the demonstrations were fabulous and we are delighted to have such a supportive group of musical parents to give live performances to the children.
Kingston Libraries & Heritage Event Brochure for May/June
Please click here to access the Digital Events Brochure for Kingston Library & Heritage Service. This includes all of their half term activities and Jubilee celebrations as well as their regular sessions and one-off events for all ages.
Get Yourself Moving - Free Archery Taster Sessions
The Achieving for Children Youth Service is offering free Archery taster sessions for young people aged 8 to 16. Taking place at Kingsnympton Youth & Community Centre, KT2 7RW. Fortnightly on Fridays. Booking is essential and can be done via Eventbrite here.
Perform Drama - Summer Holiday Course
Perform Drama are running a summer holiday course in Wimbledon. Should you be interested, please see the attached flyer for details and how to book.
I wish you all a lovely half term and look forward to seeing everyone back at school on Tuesday 7th June. Enjoy the celebrations!
Tabitha White
Headteacher
Key Dates - Summer 2022
Friday 27th May - INSET day (School closed)
Monday 6th June - School closed (in lieu of Bank Holiday for Queen's Platinum Jubilee)
Wednesday 8th June - Y6 Visit from Lavender Hill Magistrates
Friday 10th June - Parent Rep Meeting - 2:00 p.m.
Friday 10th June - Y4 sleepover (until 9am Saturday morning)
Monday 13th June - Y6 Trip to British Museum
Tuesday 14th June - Y1 "Fairytale Forest" Workshops
Tuesday 14th June - Y6 Performance - 4:00 p.m.
Wednesday 15th June - Year 4 - Trip to All Saints Church, Kingston
Wednesday 15th June - Y6 Performance - 7:00 p.m.
Friday 17th June - Enterprise Day
Saturday 18th June - Summer Fair @ Infant site - 2:00 p.m. - 6:00 p.m.
Monday 20th June - Kingston Schools' Singing Festival (Y2 and Y5 & 6 choir)
Monday 20th June Year 3 - Trip to Hogsmill River
Thursday 23rd June - Y2 & Y4 Country Dancing Festival - 9:30 a.m. - 12:00 p.m.
Friday 24th June - INSET Day (School closed)
Thursday 7th July - Infant Sports Day
Monday 11th - Friday 15th July - Y6 Trip to Isle of Wight
Monday 11th July - Reception Parents meet Y1 Teachers - 3:45 p.m.
Tuesday 12th July - Y1 Parents meet Y2 Teachers - 3:45 p.m.
Wednesday 13th July - Y2 Parents meet Y3 Teachers - 3:45 p.m.
Thursday 14th July - Y3 Parents meet Y4 Teachers - 3:45 p.m.
Monday 18th July - Juniors Sports Day
Monday 18th July - Y4 Parents meet Y5 Teachers - 3:45 p.m.
Tuesday 19th July - Y5 Parents meet Y6 Teachers - 3:45 p.m.
Wednesday 20th July - Children meet new class
Wednesday 20th July - Y6 Leavers' Celebration for Y6 parents and children - 7:00 p.m.
Thursday 21st July - Parents' Open Afternoon
Friday 22nd July - End of Year Service - 9:45 a.m.
Friday 22nd July - Y6 Leavers' Event - 2:00 p.m.
Friday 22nd July - Early Finish
Please remember, as is usual, school will close early on the last day of term, at the following times:

Infants @ 2:15 p.m.
Nursery @ 2.20 p.m.
Juniors @ 2:30 p.m.
Connect will start at 2:15 p.m. and run until 5:15 p.m.