Weekly Update - Thursday 20th October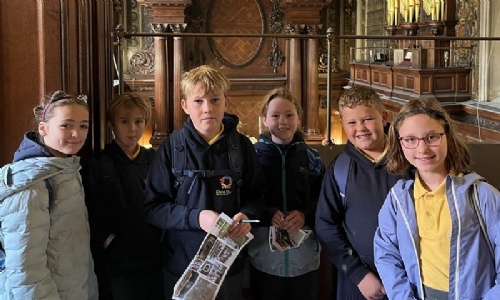 Trips this week included Year 5 visiting Hampton Court and our Reception children went to Waitrose in New Malden to learn about fruit and vegetables.
Weekly Update from Mr Meehan
I hope this week's parent evenings were helpful and informative. We also look forward to inviting you in to school shortly after half term for our learning look, so the children can show off all their learning! All the classrooms will be open and the children's books available for you to look at with them.
We have had a very exciting week of learning, which began on Monday with World Day. What an amazing day this was with a fabulous array of colour and lots of yummy food celebrating so many countries and cultures. I know many of the children worked really hard on their presentations for this. My thanks to Mrs Burkinshaw, who leads on Geography in the school, and who masterminded the whole day (please see more below on this!).
As well as this, I know our 'Chums' have enjoyed their activities together this week, reflecting on our iShare learning theme, which we have drawn to a close this week - but will continue to aim to 'let our light shine' out with good deeds all year! Some of our year groups have been getting out and about in other ways as well, with our Year 5s at Hampton Court yesterday and our Reception children learning about fruit and veg at our local Waitrose.
Inspired by the visit of author Mel Taylor-Bessant, Mrs Rizi has launched a writing competition for children at the juniors. Children in Years 3-6 are invited to enter a short story writing competition with the theme 'Have you ever ….' The deadline for entries is Friday 4th November, and all the information is on Google Classroom, which is also where entries should be submitted. The winner will be chosen by Mel Taylor-Bessant herself!
After half term, we are launching a revised behaviour policy, which we have been working on over this half term. Some aspects have already been launched, such as the 'Pupil of the Week', the instant positive memos you may have seen and the new 'lunchtime keys'. We've also been revisiting our 'Golden Rules' in recent weeks and we will be sharing refreshed lists of rewards and sanctions with the children in the coming weeks. Our Pupil Leadership Team will be monitoring the implementation of all of these measures as the year goes on, and we will share our revised policy with you also after half term.
There is certainly plenty to look forward to in the second half of term, including the run up to Christmas! More on that after half term. In the meantime, I pray you and your family have a great half term with some good family times together.
Key Updates for Parents
World Day Mrs Burkinshaw writes: A huge thank you to all parents and children who took such an active part in World Day. We had a wonderful day and learned about many cultures and tried lots of different foods! We also want to say thank you to H Mart Europe Ltd who kindly donated 500 chopsticks so that all the children in school could try eating with them, a new cultural experience for many!
Good Deeds in Action This term, we have been thinking about Good Deeds for Today. One of our Year 6 pupils, Samuel Shrimpton, is doing something special to help others in need:
On Friday the 28th October, in half term, I will be having my hair cut for charity. It will be made into a wig for a child who has lost their hair to cancer or another condition. I have seen how such a simple item such as a wig can help restore confidence, especially in the case of my Nan a few years ago, who received a wig from a different charity.
Below is a link to a JustGiving page that highlights my cause, why I have chosen it, and the need to raise money to help turn my hair donation into a wig.
I would really like to spread news about what I am doing to help other children.
You can donate to Samuel's JustGiving page by clicking here.
PE Days
Next half-term the PE days for each class will be:
Reception - Monday & Wednesday
Year 1 - Monday & Wednesday
Year 2 - Tuesday & Thursday
Year 3 - Wednesday & Friday
Year 4 - Tuesday & Thursday
Year 5 - Tuesday & Friday
Year 6 - Thursday & Friday
PTA Disco
Thanks so much to everyone who helped at the discos on Friday. The children had a fantastic time dancing the evening away and we raised £422 for the PTA! We are aware that not everyone was able to get tickets who wanted them, so we would like to organise two more discos next year: in Jan/Feb and April/May. We are therefore looking for someone (or a small team) to organise these, with support from previous organisers. If you think you can help, please get in touch at ccnm.pta@hotmail.com. Thanks so much! The PTA
Half term events in Kingston Libraries
Discover the half term programme of events in Kingston libraries. A selection of spooky and not-so-spooky activities for children across kingston libraries. Click here to view the brochure of events.
Free Half-term History Trail in Richmond Park
The Friends of Richmond Park have produced a booklet all about the history of Richmond Park, from Stone Age to present day and are holding a free History Trail on Thursday 27th October. You can drop in any time between 10-12noon at Pembroke Lodge, Richmond Park. Please see the attached flyer for more details.
Secondary School Application Deadline
Please can we remind Year 6 parents/carers that the deadline for secondary school applications is Monday 31st October. Please remember to complete your on-line application if you haven't already done so. Please go to eAdmissions to apply.
Teaching Assistant Job Vacancies
Are you an enthusiastic teaching assistant who has a passion for learning, will put the needs of our children first and has excellent interpersonal skills? Are you a flexible and confident team player who has experience of working in school settings? Then we have the job for you. You would be supporting children's learning, assisting the class teachers and helping to make and maintain a positive, organised and efficient environment. For more details see the school website.
Key Dates - Autumn 2022
Monday 24th - Friday 28th October - Half Term
Tuesday 1st November - Nursery Tour for Prospective Parents @ 9:30 a.m.
Wednesday, 9th November - Y6 Trip to Tate Britain
Thursday 10th November - Reception Tour for Prospective Parents @ 9:30 a.m.
Thursday 10th November - Whole School - Learning Look @ 5:00 p.m. - 6:00 p.m.
Sunday 13th - Remembrance Day Parade - 9.00am
Wednesday 16th November - Reception - Y6 Individual Photographs
Monday 21st November - Reception Tour for Prospective Parents @ 5:00 p.m.
Wednesday 23rd November - Y1-6 Author Visit (Banji Alexander)
Thursday 24th November - Reception Tour for Prospective Parents @ 9:30 a.m.
Friday 9th December - Christmas Jumper Day
Thursday 15th December - Christmas Party Day
Friday 16th December - Christmas Service at the church - 9:45 a.m. - 10:45 a.m.
Friday 16th December - Last day of term - School closes 1 hour early:

Infants @ 2:15 p.m.
Nursery @ 2:20 p.m.
Juniors @ 2:30 p.m.
Connect will start at 2:15 p.m. and run until 5:15 p.m.