Weekly Bulletin - Friday 14th January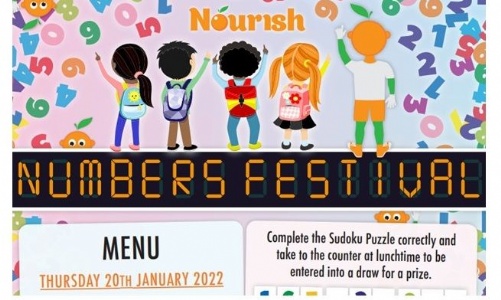 Children can correctly complete a Sudoku Puzzle for census day on 20th January to be entered into a prize draw!
It has been lovely to be able to resume face to face assemblies and singing and also to reunite Connect on one site. Thank you so much for all your vigilance which has made this possible. It has also been lovely to hear how the children have started the year; teachers tell me of the children's resilience and determination to achieve their best. I have also seen some wonderful handwriting, including in some Year 2 diaries, where the children imagined they were Samuel Pepys and were excited to tell me that Samuel Pepys buried his wine and cheese in his garden to keep it safe.
Individual Photos
Last term, you will have received your child's individual photo. We have had some initial feedback that families were disappointed with some of the photos, we are therefore reviewing whether the company that we use is the right one. You have been sent a form to complete with your views.
Baby News
We are excited to share the news that Ms Mahoney has had a baby girl, Mila. Both mum and baby are doing well.
Perform Drama
Year 1 and Year 2 were very pleased to receive a visit from Perform on Tuesday. The children had a wonderful time exploring the theme of The Jungle and using drama, dance and singing to help develop their confidence, concentration and social skills. To complement the workshop, there is a free educational app for iPhones and iPads based around the theme of The Jungle. It contains fun games, creative tasks and videos of the themed songs and dances. Click here to download it free or here to find out more about the The Jungle theme.
Perform run regular weekly classes in the local area and they are offering a special introductory discount to all parents of our school if they come along for a free trial session before Tuesday 1st February. To claim your discount, just call Perform on 020 7255 9120 quoting CHCH010222 or book online at perform.org.uk.
Special Menu
Please find attached the lunch menu for census day on Thursday 20th January which includes a Sudoku Puzzle that children are invited to complete correctly and take to the counter at lunchtime to be entered into a draw for a prize. The number of Infant children who have a meal that day determines how much money we get for school dinners for the year.
PTA Meeting - 24th January
Please join us on Monday 24th Jan @8pm via Zoom for the first PTA Meeting of 2022. Everyone is welcome! Zoom details have been sent out via ParentMail.
Online Safety
I know the parents who attended the online safety presentation from Peter Cowley, Lead Adviser for Online Services and Safety for Richmond and Kingston Councils, found it very helpful. He gave us plenty of practical tips that all parents would benefit from knowing.
SCL February Half Term Camp
Please see the attached poster and programme for details of the SCL February Half Term Camp running from 14th – 18th February 2022 at the Junior site.
Reminder – Primary School Applications
For any parents making primary school applications for September 2022 entry, you can apply online here. The closing date for applications is tomorrow, 15 January 2022. You must submit your application and any supplementary information forms by this date.
Closing date for Nursery Applications 2022
Please note that the closing date for Nursery applications is Friday, 4th March 2022. We are offering tours at 9:30am on 17 & 31 January and 21 February 2022. Please contact the office to book a place.
Tabitha White
Headteacher
Key Dates - Spring 2022
Monday 17th - Friday 28th January - Y5 Bikeability
Monday 24th January - Y2 Great Fire of London Workshops
Friday 4th February - Y3/4 Choir Cluster Concert at Rose Theatre