Weekly Update - Friday 21st April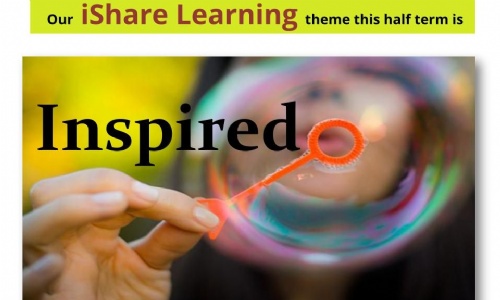 A new term means a new iShare Learning theme, which for these next six weeks is 'Inspired'.
Weekly Update from Mr Meehan
Welcome back after the Easter break. I do hope you and your families had a good time over Easter, especially as we can now begin to take advantage of the increasing daylight and warmer weather. The children have come back in good spirits this week, and already I've had the pleasure of seeing some great learning from this week and, in some cases, some impressive home learning from the Easter holidays.
A new term means a new iShare Learning theme, which for these next six weeks is 'Inspired'. We are looking forward to learning more about what it looks like and feels like to be 'inspired' and take confidence (and inspiration!) from our inspiring world, our relationships and learning more about how God inspires life. Our memory verse for this theme is short and sweet: 'In Him, we live and move and have our being' (Acts 17v28).
With all the variety of learning planned for each year group over these next weeks, I am looking forward to our children being inspired learners and an 'inspired' few weeks ahead - there is much to look forward to, not least of all our school 'Coronation Celebrations' on Friday 5th May. We outlined some information about this event to you yesterday and there are more details in this PTA poster today. We are looking forward to an exciting event!
As we begin this new term, we are also grateful to Mr Allum, who has taken up a new, wider site management role across both sites from this week - you'll now see him at both the infants and junior sites, so do say hello! Over these coming terms, with the help of funds raised by our PTA, we are looking at ways in which we can develop the outdoor areas on both of our sites, so look out for more about this.
Have a lovely weekend!
Our School Updates for Parents
Friday 19th May: Break the Rules day!
For one day only, children can break some rules! Come to school with wacky hair, crazy socks, painted nails and temporary tattoos and pay your teacher 50p for each rule you break! See attached poster for information on all the rules that can be broken.
KS2 SATS - Volunteer Test Administrators Needed
Year 6 sit their SATS in English and maths from Tuesday 9th May to Friday 12th May. We need two adults in each room each day, one is always a member of school staff and one a volunteer. Please use the form sent via ParentMail if you are able to volunteer on any or all of the days. Training and refreshments will be provided.
STEM Lunch and Learn - Volunteers Needed
We're hosting a series of STEM Lunch and Learn events where parents with STEM (science, technology, engineering, and mathematics) expertise share their experiences with the children. If you work or volunteer in a relevant sector we would love to hear from you. Please email the school office with your name, role/profession and they will contact you with more information. Do also pass this invitation to anyone you know who might be able to help. Help inspire our future innovators!
Governors' Fund
Thank you to those parents/carers who are already giving monthly to support our school through our Governors' Fund. If you have not yet done so, please consider setting up a regular monthly payment. Please look at our flyer regarding our Governors' Fund which gives you more detail about how this fund has the power to transform our school further and details of how you could be part of it. We know these are challenging times for many of us, but in order to ensure we can make our school the best that it can be, then please do consider carefully what and how you could contribute. In these times of increasingly stretched schools' funding, we need your help to ensure we have enough resources to keep making wonderful school experiences happening for our children at Christ Church! Thank you.
Wider Community Updates
Public Consultation for a New CofE Secondary School
There are plans to build a new Secondary School for Kingston and the project team are seeking community feedback on the proposals and would like to invite local people to a public exhibition. Please see the attached poster for details.
Rose Youth Theatre Academy Act 1 Course
Please see the attached flyer for details of the Rose Youth Theatre Academy Act 1 course running this term. This course is for anyone in Reception - Year 6 and does not require an audition. There are weekly workshops after school and on weekends.
FREE Cricket Coaching Sessions
Kingstonian Cricket Club is offering free cricket coaching sessions for girls and boys aged from Reception to Year 3, 6.30-7.30pm on Thursdays 20 and 27 April in New Malden. No prior cricket experience required. Full details are in the attached flyer.
A.F.C. Kingston Youth - Football Training
A.F.C. Kingston Youth offer weekly football training and matches to boys and girls aged 6+. All teams are coached and managed by professional coaches with DBS checks and first aid qualifications. Please see the attached flyer for details.
Discoverers Event in Richmond Park - Sunday 23rd April
Please see the attached flyer for details of the next Discoverers event in Richmond Park, all about Fish, on Sunday 23rd April from 11-2pm at Pen Ponds. It was initially scheduled for April but was cancelled due to bad weather.
Local NHS Dentist - Childrens Registration Opportunity
We have been contacted by Confidental Clinic, a dental practice in Tolworth, who have requested that we share that they currently have capacity to accept new NHS children's registrations at their practice. Registration is easy and can be done over the telephone by calling 0208 399 1291 or by popping into the practice at 359 Ewell Rd, Tolworth, Surbiton KT6 7BZ.
First Class Learning Maths and English in KT3 (New Malden Library)
First Class Learning (FCL) is a well-established nationwide network of after-school Study Centres offering support in Maths and English to pupils from early years through to GCSE. Students follow individualised courses of study appropriate to their needs and ability, and always relevant to schoolwork. There is currently an early bird offer & free assessments. Please see the attached flyer or their website for more details.
Chosun Academy After-School Club
This is a free English, maths and Bible study club running on Wednesdays during term time from 4pm - 6pm at the Graham Spicer Institute in New Malden. It is for primary school children in Years 1-6. Please contact Myungsook Kim on 07863 348287 for more details.
Government Emergency Alert Test - 23rd April
Emergency Alerts is a new government service that will warn you if there is a danger to life nearby (e.g. flooding, fire). In an emergency, mobile phone masts will broadcast an alert in the affected area. The alert will automatically be received by compatible mobile phones and tablets in the area and will give advice about how to stay safe. On Sunday 23rd April at 3pm the government will be sending a UK-wide Emergency Alerts test message to all compatible devices. The message will make clear that no action is required, that the message is simply a test and will provide a link where you can find further information on the Emergency Alerts service. When you receive the message, your phone or tablet may vibrate and make a loud siren-like sound for about ten seconds, even if it is set on 'silent'. The message will appear on your screen. You can opt out of receiving Emergency Alerts by adjusting your device settings, though the government advice is to keep them switched on for your own safety. Emergency Alerts work on all 4G and 5G mobile networks in the UK. Emergency Alerts can only be sent by the emergency services and by government departments that deal with emergencies. They do not need your phone number to send you an alert – if your device is compatible, it will automatically receive the message. Data about you, your device or location will not be collected or shared. To find out more about Emergency Alerts, visit the Government website.
Key School Dates
Tuesday 25th April - Y3 Trip to Natural History Museum
Wednesday 26th April - Y4 Trip to All Saints Church, Kingston
Thursday 27th April - Y2 Trip to Wisley
Thursday 27th April - Squirrel Class Worship @ 2:45pm
Monday 1st May - Bank Holiday
Tuesday 2nd May - Y4 Trip to Natural History Museum
Friday 5th May - PTA - A Royal Knees Up Dress Up Day
Monday 8th May - Bank Holiday for King's Coronation
Saturday 13th May - Junior Choir at Wimbledon Singfest
Tuesday 16th May - Reception - National Child Measurement Programme
Wednesday 17th May - Whole School Class Photographs
Thursday 18th May - Eagle Class Worship @ 2:45pm
Thursday 18th May - Y5 & 6 Online & Personal Safety talks by Met Police
Friday 19th May - Reception & Y1 Peter Pan Workshop
Friday 19th May - PTA 'Break the Rules' Day
Monday 22nd - Friday 26th May - Chums Week
Monday 22nd May - Y3 Visit to Central Gurdwara
Friday 26th May - Y1 Trip to Painshill Park
Monday 29th May - Friday 2nd June - Half Term
Thursday 8th June - Turtle Class Worship @ 2:45pm
Saturday 10th June - PTA Summer Fair
Monday 12th - Friday 16th June - Y6 Trip to Westbrook, Isle of Wight
Wednesday 21st June - Y5 & Y6 Choir - KMS Primary Singing Festival @ Rose Theatre
Thursday 22nd June - Y6 Trip to Kew Gardens
Friday 23rd June - INSET Day (School closed to pupils)
Monday 26th - Friday 30th June - Wellbeing Week
Tuesday 27th June - Junior Concert @ 7:00pm
Wednesday 28th June - Year 3 - Hogsmill River Walks
Thursday 29th June - Seahorse Class Worship @ 2:45pm
Friday 30th June - Infant Sports Day
Tuesday 4th July - Country Dancing Festival at Kingsmeadow
Wednesday 5th July - Y6 Visit New School Day
Thursday 6th July - Y6 Trip to Polka Theatre
Friday 7th July - Junior Sports Day
Monday 10th - Friday 14th July - Chums Week
Tuesday 11th July - Nursery & Reception - Teddy Bears Picnic Show
Wednesday 12th July - Y6 Trip to Houses of Parliament
Friday 14th July - Y6 Trip to Houses of Parliament
Friday 21st July - Term finishes at 1:15pm (infants) and 1:30pm (juniors)