Weekly Update - Friday 9th June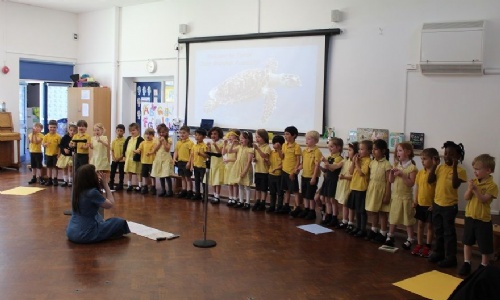 In another busy week of learning, a highlight has been Turtle class performing for their parents yesterday in their first class assembly in their time at Christ Church.
Weekly Update from Mr Meehan
We are now in the final stretch of the academic year, which is always full of so many lovely events. In Year 6 in particular, it is all systems go with rehearsals for the production beginning and their week away to the Isle of Wight next week. Children across the school are or will be in the midst of some formal assessment tests, with also our Year 1s next week doing their phonics check and our Year 4's taking the national times table check. We know all the children will be working hard on these.
In another busy week of learning, a highlight definitely has been Turtle class performing for their parents yesterday in putting together their first class assembly in their time at Christ Church; they performed with great confidence and gusto! Seahorse class will also have their turn coming up soon.
Thank you so much for your support in getting your children to school punctually and promptly to be present on most days! This may seem like a basic thing to thank you for, but it is not to be taken for granted, and we have learnt recently that we are in the top five schools in the Kingston borough for attendance, as well as being the top 25% nationally. We know that high levels of absence does impact on achievement, so it is good to see our levels of attendance remaining comparatively high.
We are all very much looking forward to tomorrow's PTA Summer Fair, and we are so grateful for all the hard work that goes in to planning this lovely community event. Please do come along to support it if you can, gates are open 1-4pm on the infant site, and we are hoping the sun will shine on us. I know our Year 6s have been working hard in designing a fun game for the fair, The Floor is Lava, so come along to support them and have a go!
Talking of the sun, please note below our encouragement to ensure your children are prepared for the sunshine when they come in to school, so we can all be sun-safe'. It's supposed to be heating up over the weekend, so we all need to be mindful of this.
Have a great weekend!
Our School Updates for Parents
Sunny Weather - Protection and Uniform
Now that the sunny weather has arrived, please can we remind parents/carers to apply sun cream to your child before they come to school, especially on outdoor PE days (The application of sunscreen is not the responsibility of school staff). We would also encourage you to ensure that children bring named sun hats into school. When the weather is hot, children should not wear sweatshirts, cardigans or hoodies, please don't send them into school wearing them.
Summer Fair - tomorrow!
Thank you so much to those who have pledged delicious things for the Summer Fair Tearoom. If you are bringing cakes with you tomorrow, please could you do this in plenty of time before 1pm opening time please, so we know we have enough! Remember to label everything you bring with your name and pop a note in the tin/cake box stating what the cake is (No nuts in anything please!) Thank you too to everyone doing stints on stalls, please make a note of where you need to be when and arrive a few minutes before to enable any handover. Don't forget to bring lots of loose change!
Summer Fair Music
The following children are invited to perform at the summer fair:
2:15pm: Years 1 and 2 singing (not just choir - all children welcome)

3:00pm: Handbells club and JUNIOR choir
Please come to the infant playground 5 minutes before to get organised. No school uniform needed.
Infant Book Fair
Next week at the Infants there will be an Usborne book fair, which will run after school on Monday - Wednesday. Please come along and have a look. Payments can be made by card or cash. Please see the attached poster.
Considerate Parking
Please can we remind parents/carers not to park in front of our neighbours' driveways and drop off and pick up time, so that our neighbours are not inconvenienced. We have again received complaints that residents in Elm Road have been prevented from getting their vehicles in or out of their driveways. Thank you for your cooperation with this.
Wider Community Updates
One to one tutoring
Experienced primary school teacher is offering tutoring support with the core primary curriculum - reading, writing and maths. Julie Skillman has recently retired from a local Kingston primary school as a deputy headteacher. Contact julieskillman5@gmail.com for more detail of costs and programmes on offer.
Key School Dates
Saturday 10th June - PTA Summer Fair

Monday 12th - Friday 16th June - Y6 Trip to Westbrook, Isle of Wight

Monday 12th - Wednesday 14th June - Infant Book Fair

Tuesday 13th June - Y3 - Barnes Children's Literature Festival @ Rose Theatre

Thursday 15th June - Y5 Visit to Kingston Mosque

Wednesday 21st June - Y5 & Y6 Choir - KMS Primary Singing Festival @ Rose Theatre

Thursday 22nd June - Y6 Trip to Kew Gardens

Friday 23rd June - INSET Day (School closed to pupils)

Monday 26th - Friday 30th June - Wellbeing Week

Tuesday 27th June - Junior Concert @ 7:00pm

Wednesday 28th June - Year 3 - Hogsmill River Walks

Thursday 29th June - Seahorse Class Worship @ 2:45pm

Friday 30th June - Infant Sports Day

Tuesday 4th July - Country Dancing Festival at Kingsmeadow

Wednesday 5th July - Y6 Visit New School Day

Thursday 6th July - Y6 Trip to Polka Theatre

Friday 7th July - Junior Sports Day

Monday 10th - Friday 14th July - Chums Week

Tuesday 11th July - Nursery & Reception - Teddy Bears Picnic Show

Wednesday 12th July - Kipling Trip to Houses of Parliament

Friday 14th July - Potter Trip to Houses of Parliament

Friday 21st July - Term finishes at 1:15pm (infants) and 1:30pm (juniors)