Weekly Update - Friday 7th July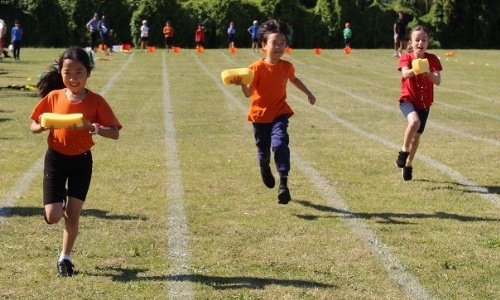 Thank you for your support for our junior sports day this morning and the weather was kind to us again!
Weekly Update from Mr Meehan
Thank you for your support for our junior sports day this morning and the weather was kind to us again! Big thanks to Mrs Brooks, who masterminded the occasion and a big well done to all children. It was lovely to see everyone getting involved in some shape or form. My thanks also to the PTA for provision of refreshments. Well done to all the children and in particular the winning houses - Y3&4 - Lime and Y5&6 - Poplar!
Another great occasion this week was the Year 4 celebration evening, where they enjoyed games, pizza and science (in that order!). The children are still buzzing about the awesome science workshop!
It was nice to see a good number in yesterday's 'learning look' too; the children always enjoy showing off their learning, and particularly at the end of the school year. Thank you for coming, and your support for your children's learning over the year.
A big well done also to all our six shortlisted pupil leader candidates from Year 5, who prepared and delivered speeches to Year 3,4 and 5 earlier in the week - they were amazing and all the gathered judges had a very hard choice! The two pupil leaders will be announced later today in collective worship and next Friday, we'll also be appointing our new house captains for next year, following in the footsteps of our wonderful Year 6 house captains this year.
It is a busy old time of year, when we begin having one eye on the next school year; not least of all, for many of our Year 6s, who looked very grown up as they ventured off for their secondary school transition day. Today, please watch out for further communications coming out regarding the classes and teacher allocations next year, as we begin to prepare for the new year ahead! In this regard, please take note of any 'meet the new teacher' meetings which are relevant to you.
Today is also an exciting day for other reasons ….
At the juniors today, we have done the PTA prize draw, so some lucky parents may be getting news this afternoon if they are prize winners!

At the infants, we are having new playground markings being painted on the playground to brighten this area up. We are so thankful to have an active and engaged PTA who work tirelessly for the school and make these things happen.
Thanks again for all your support and have a nice weekend!
Our School Updates for Parents
Times of School Day for September 2023
Having considered staff and parental feedback on our proposed new times, please see the final version of timings of the school day from September. You'll see that we have maintained a 15 minute gap between infant and junior pick up, as there were concerns about making this a shorter gap. We are also clarifying below the registration period, which is when gates will be open (there was an error with these timings in a previous parents' update).
Infants
8.35am - 3.05pm
(registration period 8.35 - 8.45am)
Juniors
8.45am - 3.20pm
(registration period 8.45am - 8.55am)
Please also note, in response to feedback, that the infant gates will open five minutes before at 8.30am to avoid crowding. The junior outer gates, like at present, will open five minutes before at 8.40am.
Meet the Teacher - Dates and Times Here are the dates for the 'Meet the new Teachers' meetings coming up. All of these meetings are at 3.45pm in the relevant classrooms and will be about 30 minutes long.
Mon 10th - Year 2

Tues 11th - Year 1

Wed 12th - Year 3

Thurs 13th - Year 4

Mon 17th - Year 5

Tues 18th - Year 6
Free parent workshop: Supporting children with sleep
The Mental Health Support Team (MHST) from Achieving for Children will be running a sleep workshop open to all parents of infant and junior children, on Tuesday 11th July, 2pm at the Junior site. It will end in time for infant parents to be able to pick up at the usual time. The workshop will cover information and strategies on the importance of sleep; supporting children with healthy sleep habits and managing common sleep difficulties. There is no need to register and you can just turn up on the day, however to give us an indication of numbers, we would be grateful if you could fill in the form sent via ParentMail if you intend to attend.
Keeping Children Safe Online - Whats App
Parents/Carers may find this page of the NSPCC's website useful with tips on how to keep your child safe on WhatsApp.
Wider Community Updates
Christ Church Invites Year 6 to a New After School Café
After taking a break for a few years, Christ Church New Malden is excited to announce the return of The Hive! The Hive is a FREE after-school drop-in café that will be meeting every Monday during school term time in the Church Lounge at Christ Church. It will open again for the first time this Monday from 3.30 to 5.30pm. Not everyone necessarily needs to stay for the whole time, but if your child is in Year 6 and might be interested, then we would love for them to come along and check it out. Each week there will be a free hot chocolate and some cake. There'll be games to play, table tennis and other activities including a playstation... Your son or daughter could even use it as a time to do homework. Most importantly we want it to be a safe space for the children to come to unwind after a busy day at school and catch up with their friends. This is especially exciting as we are starting now before term ends as a chance for the current Year 6 group at Christ Church Primary to come and get a sneak preview ahead of anyone else! We really hope it can be somewhere that, even after they've moved on to different schools in September, they can come and see their friends and continue all of the brilliant relationships that they have built through their years here at Christ Church School. If you have any questions then please feel free to get in touch with Nathan Larkin, the Youth and Children's Minister at Christ Church: nathan@ccnm.org
Run for Refugees 2023
Tomorrow morning at 9am some pupils, parents and staff are doing the Richmond ParkRun 5k in aid of the UN Refugee Agency supporting refugees worldwide. We would love to see you run with us or come to cheer us on. Meet at the start at 8.50am. We would love sponsorship too at this Just Giving link. If you'd like to find out more please message Helen: 07816 926089. Thanks so much for your support!
Kingston Music Service - STARter Groups
Kingston Music Service are very happy to announce the start of their new beginner groups for Violin, Trumpet, Clarinet and Recorder. Members of the new STARter Groups are all beginners. They will learn together, sing together and have fun together. Groups will start in September at their Tolworth Music Centre and will mix learning a new instrument, with singing and musical games - for the low cost of £8 for a 45min class plus instrument hire at £19 per term (if needed). For more details go to https://www.kingston.gov.uk/music-service-1/ensembles/1 or see the attached flyer.
Hollyfield Live! - Saturday 15 July
The Hollyfield Music Department is running an outdoor music festival 'Hollyfield Live' on Saturday 15 July. Please see the attached poster for more details and how to buy tickets.
We Make Footballers FREE Football
We Make Footballers run football sessions in the local area for ages 4 to 12 years old and pupils are invited to join them for a FREE 1 hour trial! You can sign up using this link and more information is available in the attached flyer.
Fulham FC Foundation Girls Development Centre Football Sessions
Fulham FC will be running their Girls Development Centre Camp throughout the summer holidays. If any students are aspiring footballers in Year 2 to Year 6 then their camps will be perfect for them this summer. The sessions will run at Shrewsbury House School, Surbiton, KT6 6RL on outdoor 3G pitches throughout July and August. More information can be found on the attached flyer and their website here: Fulham | Soccer Schools (fulhamfc.com).
Free Girls Football Training and watch the Lionesses
Richmond & Kew FC would like to invite all young girls in Richmond & Kingston to attend a 90 minute training session of football on their 3G pitches where they will have games, skill drills and matches to enjoy. This will be followed by the screening of the Lionesses 1st game in this year's World Cup in their Clubhouse. There will be some nibbles and squash for the girls watching the match. The session will commence at 8.45am and culminate with watching the game which should be finished by 12.30pm. Please click on this link if you are interested in attending.
Sassy Stirrers Summer Cooking Classes
The popular summer cooking plan has been launched and is booking up fast! Prices from £48. Lunch and snacks included. For details and how to book please see the attached flyer.
Ultimate Activity Camps - Holy Cross Prep School
Ultimate Activity Camps provide activity day camps for children aged 4-14 during the school holidays. Children will enjoy a fantastic range of over 40 sports, games and art activities every week led by engaging staff at amazing locations. Running this Summer at Holy Cross Prep School. Please see the attached for more information on their summer and tech camps.
Perform in the Park Festival
Popular children's drama and dance school Perform is hosting a new festival called Perform in the Park in central London this summer where you and your children can enjoy a live theatre show in a 500 seat air-conditioned theatre followed by the delights of Coram's Fields. This six-week festival includes four fantastic productions for children with shows running daily from 22 July to 28 August. Tickets are on sale now. Please see the attached for more information.
£1 Entrance to Kew Gardens
A new low-cost entry is being introduced for a visit to Kew Gardens for people in receipt of Universal Credit. The offer is part of a suite of new pricing aimed to make both gardens more accessible to people of all ages and all incomes to enjoy a great day out in nature. The new ticket will allow anyone who is in receipt of Universal credit to pre book online at www.kew.org or to walk up and pay their £1 on the gate.
Key School Dates
Monday 10th - Friday 14th July - Chums Week

Tuesday 11th July - Nursery & Reception - Teddy Bears Picnic Show

Wednesday 12th July - Kipling Trip to Houses of Parliament

Wednesday 12th July - Y6 Production @ 4:00 p.m. - 5:00 p.m.

Thursday 13th July - Y6 Production @ 6:00 p.m. - 7:00 p.m.

Friday 14th July - Potter Trip to Houses of Parliament

Monday 17th July - Y2 Production @ 2:00 p.m.

Tuesday 18th July - Y2 Production @ 5:00 p.m.

Wednesday 19th July - Y6 Leavers' Celebration @ 6:00 p.m.

Friday 21st July - End of Term Service at Christ Church @ 9:45 a.m.

Friday 21st July - Term finishes @ 1:15p.m. (infants), 1:20 p.m. (nursery), 1:30 p.m. (juniors) and Connect 5:15 p.m.

Monday 4th September - INSET Day (school closed to pupils)

Tuesday 5th September - School reopens for pupils