Weekly Update - Friday 14th July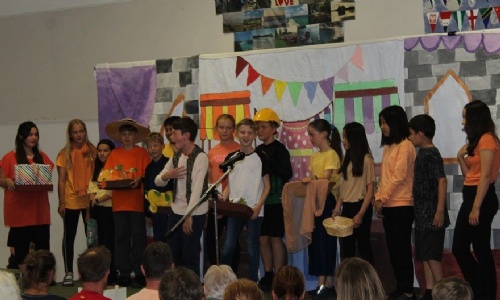 Last night was the final performance of Year 6's, Aladdin Trouble, a panto-tastic musical with amazingly catchy songs and a captivating new take on the traditional tale.
Weekly Update from Mr Burkinshaw
It has been a week of performances at Christ Church! Last night was the final performance of Year 6's, Aladdin Trouble, a panto-tastic musical with amazingly catchy songs and a captivating new take on the traditional tale. The children dazzled us with their enthusiastic performance, the highlight of which was the climatic spectacular singing chase! Thank you to the children and teachers who made it happen.
Also, this week was the Year 2 choir's summer performance. Although there are only about twenty-five children in the choir, they sang so powerfully it sounded like the whole of the infants was singing. The children sang with such confidence and I think all of us who heard it would happily hear it all over again. Thank you Miss Galbraith for preparing them so well.
This week, Year 5, went to Coombe Boys' to see their production, The Battle of the Boat. The children were entranced by the courageous tale of a group of children trying to find their place in the First World War. They returned inspired by the excellence of the secondary pupils.
Year 6 have been visiting the seat of power, as they went to the Houses of Parliament. The children were intrigued to learn some of the history of the building and to see the spaces in which so much of our country's history happened and to meet members of both houses. It is wonderful that every child will have a chance to visit Parliament over their time at Christ Church.
On Tuesday, nursery and reception had a Teddy Bear's Picnic show, courtesy of the Rah Rah Theatre Company, led by parent, Jude Spooner. The children had a fun, exciting adventure to get to the picnic on time, with the help of some puppets, well-known songs and dancing together.
Away from performances, on Monday, the infants spent the morning orienteering. They used their map reading skills to find their way to different stations around the playground. It was lovely to see their enthusiasm as they did this. Thank you to Mrs Burkinshaw for organising it.
Next week, you will receive your child's end of year report, celebrating all they have achieved this year. As we look back on the year, you can see how much the children have grown and learned as they become the people God made them to be.
Our School Updates for Parents
End of Year Reports
End of year reports will be available, along with any statutory results, early next week. These will only be available via Arbor, our new communication system, so please ensure you register. If you do not, you will not be able to access your child's report.
End of Year Service
All parents are invited to our end of year service at 9:45 a.m. on Friday 21st July. The service will be led by Year 6 and will provide an opportunity to say goodbye to them and look back over the past year. The church have kindly invited parents to coffee before the service, so do go there straight after drop off.
Last Day of term
Please be reminded of our finish times on our final day of term, Friday 21st July, which are 1:15p.m. (nursery & infants), 1:30 p.m. (juniors) and Connect 5:15 p.m.
Free School Meals @ Juniors from September
In addition to the government's infant free school meal programme, The Mayor of London is funding free school meals for junior children. This starts in September for one school year - please see the attached letter from the mayor. This means that you will no longer be required to order a meal for your junior child. Children who are having a hot lunch choose their option on the day at the counter – the experience at other schools and at the Infants shows that children are much more satisfied with their meal and that there is much less waste. You can see the menu for next term on our website. Do please add details of any food allergies in your child's student profile in Arbor so we can pass it on to the kitchen. (Please note we highlight this in different area on Arbor so it may appear blank when you view the profile).
Times of School Day for September 2023
A reminder again of our new school times, which begin on Tuesday 5th September, the first day of the Autumn term:
Infants
8.35am - 3.05pm
(registration period 8.35 - 8.45am)
Juniors
8.45am - 3.20pm
(registration period 8.45am - 8.55am)
Infant gates will open five minutes before at 8.30am. The junior outer gates will open five minutes before at 8.40am.
Working at Christ Church
We are looking for someone to join our office team working across both sites - with a focus on providing administration for our breakfast and afterschool club, Connect, (36 hours per week term time only). If you are interested you can find more details here.
Wider Community Updates
Summer Tech Camps
Looking for something different to keep your child's inquisitive mind active this summer? Next Thing Education are excited to announce that we will be running STEM Camp on 24th July- 11th August at Christ Church New Malden Junior School, KT3 3HN and 14th August – 1st September at Kings Oak School, KT3 3RZ from 9 am to 4 pm each day (Early drop off from 8 am now available). Each week they have a new exciting theme with new activities click here to see a few.
Week 1 - Robotics, VR and Tech Fun
Week 2 - Minecraft Coding and Lego Engineering
Week 3 -Videography, Photography and Crafts
Their camps are for ages 5-12. Spaces are limited, don't miss out and book today, simply visit: https://www.nextthing.education/summer-camps/
Get ready for the 2023 Summer Reading Challenge at your local library. Children of all reading abilities and between the ages of 4 and 11 are invited to read six books across the summer from Saturday 8th July. It is free to take part and families can sign up by visiting their local library or by visiting the Summer Reading Challenge website.
Children set their own personal goals at the beginning of their Reading Challenge and receive either digital incentives or prizes from their library after completing each book. To help our readers along the way, we will be running a programme of FREE events throughout the summer across all of the libraries in Kingston - including Kingston Libraries Sports Day, inspired by this year's 'Ready, Set, Read!' theme!
Keep an eye on what is happening at your local library to take part or contact libraries@kingston.gov.uk for more information.
Chiswick Lacrosse Camp
Chiswick Lacrosse Camp is a fun summer sports camp which will be taking part at Kings' House School Sports Ground in Chiswick this August, as it has done for over 30 years.
They cater for girls aged 8 - 15 years and are great fun for any girls wanting to try a new sport that they may not play at school, increase fitness or simply enjoy a fun summer sports camp and make many new friends in the local area! Please see the attached flyer for more information.
Key School Dates
Monday 17th July - Y2 Production @ 2:00 p.m.
Tuesday 18th July - Y2 Production @ 5:00 p.m.
Wednesday 19th July - Y6 Leavers' Celebration @ 6:00 p.m.
Friday 21st July - End of Term Service at Christ Church @ 9:45 a.m.
Friday 21st July - Term finishes @ 1:15p.m. (infants), 1:30 p.m. (juniors) and Connect 5:15 p.m.
Monday 4th September - INSET Day (school closed to pupils)
Tuesday 5th September - School reopens for pupils, 8.35am for infants; 8.45am for juniors