Weekly Parent Update - Friday 6th October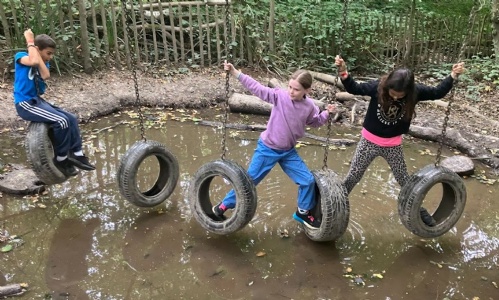 Year 5 had a wonderful time at Carroty Wood last week and it was fantastic to see how the children tackled every challenge they faced.
Weekly Update from Mr Burkinshaw
This time last week I was with Year 5 on their residential at Carroty Wood, in Kent. We had a wonderful time and it was fantastic to see how the Year 5 children tackled every challenge they faced. For many of the children, there were a number of firsts: the first time they had abseiled, or shot arrows, the first time they had attempted the leap of faith, or built a shelter in the woods and perhaps, most importantly for many, the first time they had stayed away from their parents for two nights. On Monday, the Year 5 children arrived at school with such big smiles on their faces and, perhaps, slightly more grown up than they had been the week before.
This Tuesday, Hedgehog Class went to Pizza Express in New Malden to make pizzas. The children enjoyed learning tips from the professional chefs and were each able to take home a pizza they had made. The staff at Pizza Express said our Y2 classes were some of the most polite and sensible classes they had ever had. Well done, Year 2.
This morning, we had our first church service of the year - harvest. Year 4 helped us to reflect on how the food God provides gets from the ground on to our plates, and also remembering those who do not have enough to eat. There was lots of singing - including a super performance from Year 3 - and if you hear your children singing "Big, Red Combine Harvester" you'll know where they learnt it! As the Year 4 children encouraged us this morning, please donate to Kingston Foodbank to help those in need.
If you have any friends or neighbours in New Malden who are looking for a school place do let them know of our tours for prospective parents, which start next week. For more information, click here.
September's newsletter is published today. It is packed full of photos and gives you insights into what children have been learning at school, but also photos of trips to the Natural History Museum, the Science Museum, Pizza Express and Carroty Wood. In fact, it includes photos of over a quarter of the children in the school!
Our School Updates for Parents
Message from Chair of Governors, Robert Shrimpton We are pleased to announce that Mr Andre Rickerby has been elected as our new parent governor and will be joining our governing body. As she comes to the end of her term, we also thank Mrs Emma Scott for her work, commitment and dedication on our governing body in these recent years, and all the expertise she has brought.
Come and join our team! We currently have a new exciting vacancy for a teaching assistant to join our team, based at our infant site, with a focus on working with children with social and emotional needs. Here is the advert. Please speak to Mrs Roe or Mr Burkinshaw if you'd like more details.
PTA AGM Our PTA work really hard to raise lots of funds for the school to improve the education for all our children. They are holding their AGM in the infant hall on Monday 16th October at 8pm, and would welcome a good number of parents to come and hear about their work. Mr Meehan will also present plans and ideas for our future spend over this year - come along to hear the exciting plans!
Reminder: Parents' Evenings
Please see below the timings for our online parents' evenings on 18th and 19th October:
Wednesday 18th October - 3:45 - 6:45 pm

Thursday 19th October - 2:45 - 5:45 pm
Please remember to book your appointment on SchoolCloud if you haven't already done so.
Please note, in order to accommodate the earlier start of Parents' Evening on Thursday 19th, school will close 1 hour earlier than usual at the following times:
Infants @ 2:05 p.m.

Juniors @ 2:20 p.m.

Connect will start early @ 2:05 p.m. and run until the usual time of 6:15 p.m.

Junior Drama club and Y3&4 Football club will both run from 2.20pm-3.20pm on Thursday 19th October.
Wider Community Updates
Chelsea FC Foundation - Girls Only Kingston Foundation Skills Centre
CFCF have opened a girls only Kingston Foundation Skills Centre for players of all abilities to develop their skills, keep fit and make new friends in a safe environment. Players will get the opportunity to experience technical sessions led by their CFC Foundation coaches along with many fun and exciting challenges. If this is of interest, please see the attached for October dates and more details.
Free English Classes - New Malden
Free English is a scheme run by a growing number of churches throughout the country. As the name suggests, it is entirely free to take part and is staffed by volunteers. Classes run on Friday Nights at the Graham Spicer Institute, just by New Malden Railway Station (next to Waitrose Car Park). You can find out more about them on their website: www.freeenglishclasses.co.uk/newmalden or on the attached flyer.
Nikki's Kitchen - Event Catering
Nikki's Kitchen, who run our after school cookery club, also offer bespoke event catering and would like to share the attached details of their Christmas menus, should this be of interest to any parents/carers. They are also running a Halloween workshop in half term and details are attached.
Key School Dates
Tuesday 10th October - Reception Tour for Prospective Parents @ 9:30am

Monday 16th – Friday 20th October – Chums Week

Tuesday 17th October - Nursery Tour for Prospective Parents @ 9:30am

Tuesday 17th October - Y3&4 Drumming Workshops (am)

Wednesday 18th October - Parents' Evening - 3:45 – 6:45pm

Thursday 19th October - School finishes 1 hour early @ 2:05p.m. (infants), 2:20 p.m. (juniors) and Connect 6:15 p.m.

Thursday 19th October – Parents' Evening - 2:45 - 5:45pm

Friday 20th October - Reception Tour for Prospective Parents @ 9:30am

Friday 20th October - Y5 Trip to Hampton Court

Monday 23rd – Friday 27th October – Half Term

Monday 30th October - Y6 Trip to Imperial War Museum

Friday 3rd November - PTA Break the Rules Day

Tuesday 7th November - World Day

Wednesday 8th November – Reception – Y6 Individual Photographs & Sibling Photographs

Thursday 9th November - Reception Tour for Prospective Parents @ 9:30am

Thursday 9th November – Leopard Class Worship @ 2:45pm

Friday 10th November - PTA Non Uniform Day

Friday 10th November – Soloists Concert @ 9am

Sunday 12th November - Remembrance Day Parade @ 8:45am

Monday 13th – Friday 17th November – Anti-Bullying Week

Monday 13th – Friday 17th November - Y4 Bikeability

Monday 13th November – Y1 Pollock's Toy Museum Workshop

Wednesday 22nd November - Reception Tour for Prospective Parents @ 9:30am

Thursday 23rd November – Learning Look @ 4:30-5:30pm

Saturday 25th November – PTA Christmas Fair

Monday 27th November – Friday 1st December – Wellbeing Week

Thursday 30th November – Antelope Class Worship @ 2:45pm

Monday 4th December – Y5 Greek Workshop (pm)

Monday 11th – Friday 15th December – Chums Week

Tuesday 12th December - Junior Christmas Production @ 4pm

Wednesday 13th December – Junior Christmas Production @ 6pm

Thursday 14th December – Reception Nativity @ 9am

Wednesday 20th December – Church Service @ 9:45am

Wednesday 20th December – Term finishes @ 1:05p.m. (infants), 1:20 p.m. (juniors) and Connect 5:15 p.m.

Thursday 21st December – INSET Day (School closed to pupils)

Friday 22nd December – Friday 5th January – Christmas Holiday

Monday 8th January – INSET Day (School closed to pupils)

Tuesday 9th January – Pupils return to school