Weekly Bulletin - Friday 11th February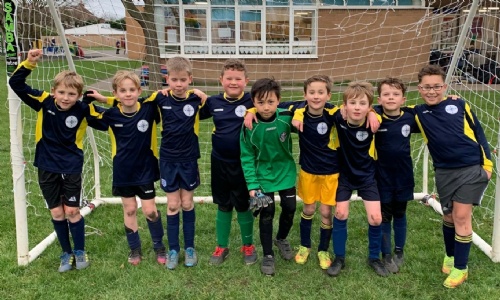 Well done to our Year 3&4 footballers, who played an excellent game against Corpus Christi, resulting in a 2-2 draw.
What a great week it has been! It started with the Year 1 trip to the Aquarium. It was lovely to see a trip happening again and I believe they loved every moment, including the train journey to and fro. The week continued with so many fun and creative activities. Reception have been making and using magic paintbrushes, Year 2 have been burning houses in the playground to reenact the Great Fire of London, Year 3 have been making lego models of Jesus' miracles (they just had to be seen!), Year 4 have made Roman style jewellery from salt dough and melted highly coloured ice cubes, Year 5 have made bird scarers and Year 6 have been printing inspired by William Morris.
The children and the staff are all ready for a half term, but I think they should be very proud of all that they have achieved. I wish you all a safe and relaxing week.
Parent Questionnaire
It is amazing to think that we are already midway through this year. It is a good time to stop and reflect and we would value your help with this. The information you give us will help us shape plans for the rest of the year and also be invaluable for OFSTED, who are due at any time. Please help us celebrate the things that are going well and decide upon 'even better ifs' by completing the questionnaire sent out to parents/carers.
Children's Mental Health Week: Growing together
In collective worship this week, the children have thought about how they have grown - things that once may have seemed hard to do, may now be easy. They thought about things they do to keep physically and emotionally healthy. To be able to grow emotionally, children need all kinds of support.
The school works with the local Mental Health Support Team and Ellis Cross is the link for Christ Church. Please see her introductory video and leaflet about the support she can offer. (We are aware the leaflet refers to the incorrect school and have alerted Ellis, but felt it important to share the information with you). Ellis is hoping to arrange some informal meetings with parents.
Message in a Bottle Event
We are very excited to be taking part in the Message in a Bottle event. This art project shares an inspiring and important message for pupils ages 5-11 about turning rubbish into something beautiful and creating beauty out of the things they have around them. The children will consider how they can make a real difference in the world using creative and imaginative vision. Our art installations should mainly consist of often tricky to recycle plastic items and so we are calling upon you to help us collect the materials we need. Please send in any CLEAN plastic bottle tops of any colour. We will be collecting over a sustained period (until at least the end of March) so do not worry if you do not have any immediately, just send them in as and when you can. We cannot wait to see what designs the children come up with and will be sharing photos of the completed work around Easter time.
Birthday Books
If you would like to give a book to your child's class, but are struggling for ideas, please browse through the following lists. These books are designed to be an exciting and fresh addition to the books we have in school at the moment. The lists for all year groups are now available: Nursery, Reception, Year 1, Year 2, Year 3, Year 4, Year 5, Year 6.
Save the Date - Sunday 27th March - Junior Choir performing at St John's
The Junior choir will be singing at St John's on Mothering Sunday, 27th March. It will be up to 30 members of the junior choir and will hopefully be a real treat for everyone on Mothering Sunday. More details will follow nearer the time.
Year 3&4 Football
Well done to all our Year 3 and 4 footballers, who played an excellent game against Corpus Christi on Tuesday. The match, resulting in a 2-2 draw, completes an undefeated record for this half term.
Closing date for Nursery Applications 2022
Please note that the closing date for Nursery applications is Friday, 4th March 2022. We are offering a final tour at 9:30am on 21 February 2022. Please contact the office to book a place and let neighbours know if you think they would be interested.
Letter from Public Health Kingston
Please see the attached letter from Iona Lidington, Director of Public Health in Kingston, that asks parents where possible to test their children 5 years and over, prior to returning to school. Despite national announcements that have indicated future changes to testing arrangements, regular testing remains the national recommendation at this time. If everyone tests on Sunday 20th or the morning of Monday 21st then we reduce the risk of infection tracking back into school after half term.
Vacancies with Nourish, our caterers
We are delighted that so many more pupils are having hot meals now Nourish have taken over. Nourish are looking for 2 catering assistants to join their team: 1 x 15 hours per week, 1 x 20 hours per week (DBS and driving licence would be useful). If you are interested then please contact / email a CV to Teresa Adonis-Taylor, Operations Manager, Nourish Contract Catering. Mobile number: 07796025222. Email: teresa@nourishcc.co.uk.
Family First - Free Magazine
Please see attached poster with a link to the Family First magazine, a free bi-annual magazine for all parents and guardians.
Halliford School - Open Morning Saturday 26th March
Halliford School in Shepperton is holding an Open Morning on Saturday 26th February 2022. For further details and how to book please see the attached poster.
With best wishes for a safe and relaxing weekend!
Tabitha White
Headteacher
Key Dates - Spring 2022
Friday 25th February - Antelope Class Trip to Buddhapadipa Temple - 9:00 a.m. - 1:00 p.m.
Friday 25th February - Y6 London Transport Museum Virtual Workshops - 9:15 a.m. - 10:15 a.m.
Thursday 3rd March - World Book Day
Wednesday 9th March - Y6 Junior Road Watch
Thursday 10th March - Y6 TfL STARS Safety & Citizenship Talk - 1:45 p.m. - 2:45 p.m.
Friday 18th March - INSET Day (School closed)
Wednesday 23rd March - Parents' Evening - 4:00 p.m. - 7:00 p.m.
Thursday 24th March - Parents' Evening - 3:00 p.m. - 6:00. p.m (school closes 1 hour early)
Sunday 27th March - Junior Choir singing at St John's - 9:30 a.m. - 10:30 a.m.