Uniform
Our school colours are navy and gold with grey.
Items of uniform can be ordered through our supplier, Garbmann (click on button below). The Parent Teacher Association (PTA) holds occasional sales of second-hand uniform. Pupil Premium children are offered a free school hoodie.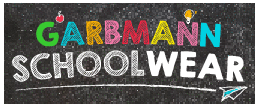 Hoodie

Polo shirt

PE T-shirt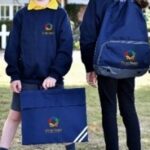 School bags
These are the range of options: tailored grey trousers/shorts; grey skirt/pinafore dress; yellow checked dress and a gold school Polo shirt plus a navy blue school hoodie or sweatshirt.
PE Kit: All children need navy shorts/tracksuit trousers/leggings, a white school or house colour T-shirt, a school hoodie/sweatshirt/cardigan and black trainers. They will wear their PE kit into school on PE days to avoid things getting lost.
House colour T-shirts are as follows:
Poplar - Blue
Lime - Green
Elm - Red
Chestnut - Orange
Shoes, Socks & Tights: Children should wear black shoes that support children's feet. Please buy sensible shoes that your child can manage on his or her own. Trainers can be worn, but they must be black with no visible logos. Socks should be grey, black or white. Tights should be opaque grey, black or white. No leggings.
Bags: All infant children will need a navy school book-bag (used for carrying reading books to and from school) and junior children a soft small backpack.
Jewellery: The only jewellery permitted in school is small stud earrings for those pupils with pierced ears. Children must be able to remove these for apparatus lessons or not wear them on PE days and for swimming lessons.
Hair: Hair ties / bands should be discrete and plain with no adornments in school colours only. No bandanas.
Stikins name labels: We have teamed up with Stikins to offer parents the opportunity to purchase quality labels for your children's school uniform, whilst earning the school commission at the same time. Each order placed quoting the school reference number – 4309 – will provide the school with 30% commission. Order by phone on 01270 668076, by post using their order form or online via their website.